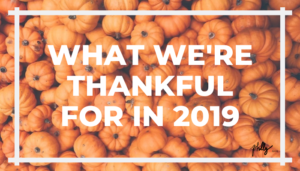 As we're getting ready for the holidays, most of us are excited to eat our weight in turkey and pie. However, the very best part about Thanksgiving is remembering to express our gratitude. Hands down, our favorite parts include taking a pause on our busy lives, spending time with loved ones, and acknowledging what we are thankful for.
On Thanksgiving and every day, we try to ask ourselves: What are you thankful for? Here's what the Philly PR Girl team has to say this year…
Kate
Philadelphia. I know it's a broad answer (pun intended 😉) but I'm thankful for the amazing community in this city. The local entrepreneurs and women-owned businesses inspire me everyday. I'm especially thankful for South Philly and finding my forever home here.
Tamara
I am thankful for healthy days and being able to explore new places. I traveled to four different countries this year- making amazing memories with my loved ones.
Victoria
I'm so grateful for a safe and warm place to call home. My fiance and I recently DIY renovated the kitchen together with my father. It feels great to share memories with our friends and family in a space we worked so hard on.
Jessie
The color pink because it makes me happy!
Molly
My Starbucks barista who knows my name and order. She makes every morning a great morning!
Hannah
My grandmother's homemade recipes that provide delicious food at the Thanksgiving table!
Sophia
I am thankful for the opportunity to visit my quaint little home in Upstate NY. Between living in the city and going to school, I don't have as much time to come home as I once did. I appreciate the chance to get away, spend time with my friends and family, and focus on myself.
Expressing gratitude can make you happier, healthier, and more productive. It's important to remember the power of giving thanks in our everyday lives.
We're wishing you the happiest of Thanksgivings and hope you enjoy this great holiday season!
What are you most thankful for this holiday season? Share with us in the comments or on social media!